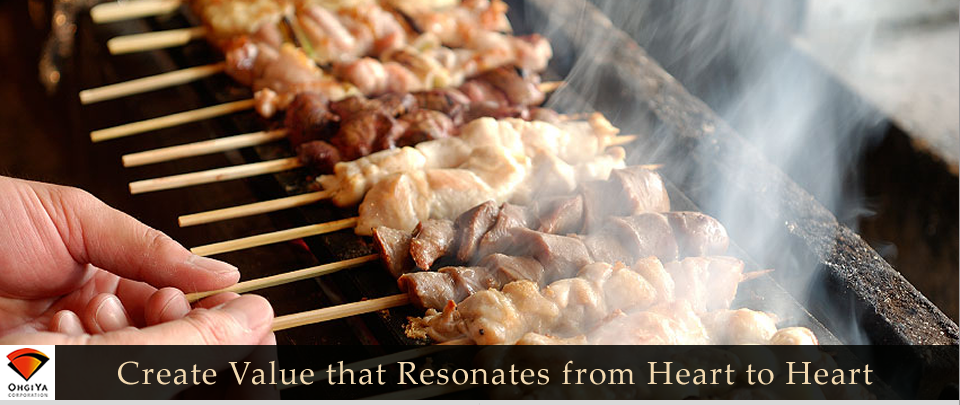 Company Name
Ohgiya Corporation, Inc.
(100% subsidiary of Via Holdings, Inc.)
Location
Shin Mejiro Bldg. 4F, 1-43-5 Sekiguchi,
Bunkyo-ku, Tokyo, Japan 112-0014
Telephone: +81-3-5155-6926
Mail: info-kaihatsu@via-hd.co.jp
Representative
Norihiko Ohba
Established
July 2, 2001 (founded December 1995)
Capital
100 million yen
Sales
21.9 billion yen (period ended March 2016)
Number of stores

471 (as of June 2016)

Ohgiya

271 under direct management
71 member stores

Pastel (Casual Restaurant)

67 stores

Other stores

62 stores

Number of employees
444


Ohgiya Corporation, Inc., is an enterprise that contributes to people's happiness and the development of society by means of the concept as well as the material reality of food, eating, and enjoyment.
When we can provide products and services at our stores that are imbued with our heartfelt sincerity, and when what we provide meets or exceeds the customers' expectations, then the natural result is an experience of pleasure and excitement. That pleasure and excitement felt by our customers then becomes our own pleasure and positive energy. When "hearts and minds come together" in this way, we call it an experience that "resonates from heart to heart" and this is what we consider to hold the greatest importance and value for our enterprise.
By creating this kind of value on an everyday basis, we move forward vigorously with our customers to build stores that customers will feel fortunate to have in their community.


"OHGIYA" is a new Type of Yakitori (Chicken Kabob) Specialty Store". It makes advantageous use of the good things about the original type of yakitori stores, while also acquiring new customer segments of families and women, and going beyond that to include the demand for take-out yakitori. It has succeeded in this.
We "OHGIYA" meets
●

Meal-Demand

(Women & Family Segments)

★ Rich varied menu for women and families: Kamameshi (casserole in individual metal pots), variety fried kabob, and others; 70 or more regular menu items

●

Drinking-Demand

(Conventional Yakitori (Chicken Kabob) Specialty stores)

★ Provide yakitori charcoal grilled to demanding standards mainly for the office worker segment

●

Takeout-Demand

★ Uncover demand for popular yakitori as a prepared entrée, as well

1.Yakitori (Chicken Kabob) Quality

●Grilling Technique
⇒ Serve Yakitori that is "

crisply

browned outside and

juicy

inside"
●Teriyaki Sauce with Secret Recipe
⇒

Yakitori gets inimitable flavor and a beautiful glossy color.

●Selected Salt and Pepper
⇒

Bring out the full, delicious Umami flavor of yakitori chicken grilled to release its savory scent.

2.Original Training System for

"Grill Master" Certification System


Allowing Part-Time and Temporary Employees to Acquire Charcoal Grilling Techniques

●Qualifying Examination
●Grill Master's Manual
●Grill Master Competition (Contest)

3.Original Training System for

"Heartfelt Hospitality" Master Certification System


  Positive Energy, Smiles : Creating stores that Customer would like to Visit Again

●Qualifying Examination
●Basic Customer Service Manual and On-the-Job Training with Role-Playing
●"Heartfelt Hospitality Master" Competition (Contest)

4. Product Development Capabilities Realize for "Enjoyable Dining"

(1)Menu of Original Kamameshi (casseroles in individual metal pots) overflows with originality

●Variety of Ohgiya Original Kamameshi
Many kinds of kamameshi, some including tomato, cheese, butter and other ingredients from Western cuisine.
●Second bowl is in Chazuke style, with Japanese soup poured over the top
⇒ Risotto style

(2)Breaded fried pork kabobs and deep fried chicken made to uncompromising standards

Ohgiya offers Kara-age (deep fried chicken) and a wide variety of Kushi-Age (breaded fried skewers) which are great favorites in a family segment.
ex.) Pork filet, shrimp, scallop, quail eggs, onion, lotus root and so on.

(3)Continuing Development of New Products
   Development of new menu items that everyone can enjoy eating together is our ongoing program.

●

"Barichiki"

is a single chicken leg deep fried whole and served directly before the customer's eyes.
●

"Keichanyaki"

is a chicken dish prepared dramatically at the customers' table.
5.Low Cost Operation

●Outsourcing the work of putting chicken pieces on skewers
●Management system for cost control and labor productivity